?THE BEST BBQ COMPANION IS ON SALE!?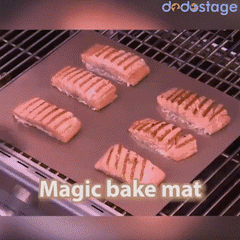 With our Non-stick Easy BBQ Mats, you can enjoy a more pleasant barbecue!

FEATURES
Made of advanced heat-resistant technology and high-quality materials, it can withstand heat-resistant temperatures up to 300 to 500 degrees Fahrenheit! When using a barbecue mat, keep a distance of 4 inches from the fire source.
Our Non-stick Easy BBQ Mats are made of 100% PFOA-free materials and high-quality PTFE fiberglass coating, and do not contain PFOA, silicone, or other dangerous chemicals! Approved by the FDA as a safety certification. Use our professional level to make you healthier while cooking on the grill!
Ordinary products can become a mess after use. But our products make grilling easy and completely eliminate messy grill cleaning! These mats can be safely used on the top of the dishwasher and can be cleaned easily.
The scorching of barbecued food will definitely take away the joy of barbecue. Our products are made of 100% non-stick materials and can be reused in the next few years! It also prevents the smallest food from falling off the stove, and your grill looks like a brand new one.
It is very suitable for any grill, including Char-Broil, Weber, porcelain, charcoal, etc. It can also be cut to fit your specific grill or oven shape. Grill meat, vegetables, fish, shrimp, pizza, even pancakes, bacon, and eggs! Very suitable for those annoying campsites or park barbecue pits!
SPECIFICATIONS
Size: 13x16 inch
Thickness: 0.008 inch
Colour: Black/Golden
NOTES
Make sure the mats are at least 5 to 7 inches away from the flames as direct contact with flames can damage the mat.
Due to the different monitor and light effects, the actual color of the item may vary slightly from the color shown in the pictures.